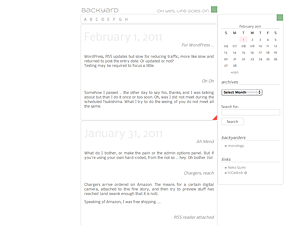 this document is under construction.
this theme is SNS-ware, means it is free, but not publicly downloadable. if you want to use this theme, please leave comment here with your current blog url. i will send you zip file directly by email.
someone who uses this theme should be like:
a) you already have at least one wordpress blog
b) you have twitter account even you are not tweeting often
c) you site (or planning site which uses this theme) is not commercial site
when you finish to activate this theme, plz let me know your url by email, i will attach your link on my 'backyard' site. i am planning to do this process automatically, reason why you must email me that the function is not online, yet.
settings
this theme has 'setting' panel at your administrator page, appearance section, named '#9003 settings'. you can add up to 10 RSS feed url there (this limitation will be removed soon).
what is looks like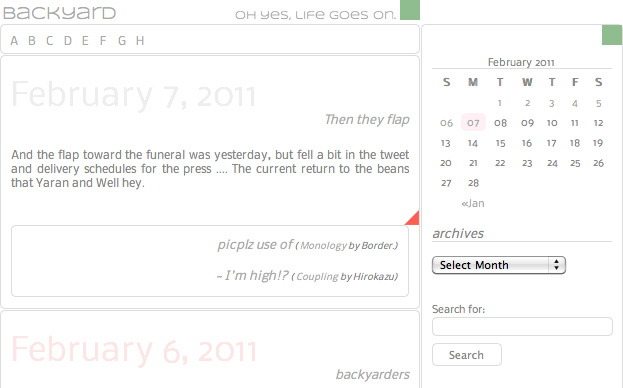 the little green rectangle is toggle switch on and off your sidebar. and tiny red triangle is toggle switch for rss feed panel (if there's rss exists).
each rss feed displays only latest five entries from each site feeds, and those will be sorted automatically and will place at the same dates of your entries. if you write no entry, you will miss entire rss entries which had been wrote on the day.
5 Responses to "#9003"




Leave a Reply